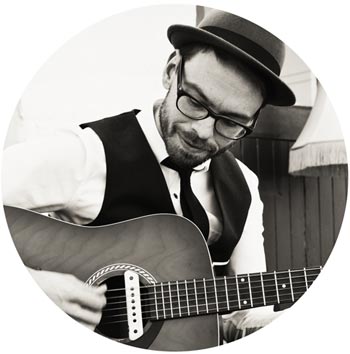 Venues, wedding planners & newly-weds trust Kaj to deliver not only an outstanding live music performance for weddings and events, but a reliable and professional booking service too. Here's why you should consider booking Kaj for your special occasion ...

"There are not enough words to express how truly fantastic Kaj was when he played at our wedding day at Pentillie Castle this weekend. Nothing was too much trouble and I still can't believe that he managed to play/sing and DJ for over ten hours and still keep smiling and delivering an incredible service. Hands down the most talented musician I have ever had the pleasure of meeting."
Sofi & Sam, married at Pentillie Castle, St. Mellion
---

"How lucky were we to have Kaj recommended to us to play at our wedding? We booked Kaj for the day and were so pleased we did - IT SIMPLY WOULD NOT HAVE BEEN THE SAME WITHOUT HIM. He was absolutely awesome."
Rachel & Scott, married at Cosawes Barton, Ponsanooth
---

" It honestly felt like I was at a gig with all of my close friends and family which was very special! I thought I knew what to expect but the encore Kaj played after the guests wouldn't let him leave was truly amazing."
Jon & Tasha, married at Highgate House, Northamptonshire
---

Pentillie Castle & Estate
"Kaj is a versatile artist, whether singing playing the piano or with his guitar he really gets the crowd together and works extremely closely with you to ensure your wedding runs smoothly. I don't think the dancefloor is ever empty with Kaj entertaining!
Booking process is very easy too, Kaj is great to liaise with and is very efficient."
Lisa Rockey, Wedding Co-ordinator at Pentillie
---

Nancarrow Farm
"We are always happy to recommend Kaj to couples getting married at the farm as he's reliable, friendly, professional and a great performer! Kaj knows how to work a crowd and is perfect for acoustic sets or dancefloor fillers."
Heather, Events Manager, Nancarrow Farm
---

Cosawes Barton
"We are proud to recommend Kaj to our guests and really enjoy working with him. He always makes the day so special and creates extra happy wedding memories!"
Louise, owner of Cosawes Barton
---

The Green
"Kaj is very personable and positive which makes everyone feel very relaxed and he is guaranteed to have your guests up on the dancefloor dancing the night away! I love how he tailors his sets to the couple's preference and he is prompt and professional which makes communication a breeze."
---


Jenny Wren - Wedding & Event Planner
"Kaj is friendly and a joy to work with, he is one of my very top recommendations for my clients. As well as being exceptionally talented, he is professional and reliable - qualities which are very important to me as a planner."
---

Hazel Parsons - Out Of The Ordinary Weddings
"Kaj is quite simply a brilliant musician. I have had the pleasure of booking him for a number of weddings and events and it is always such a pleasure to watch him perform. He has fantastic vocals, a chilled laid back vibe and a really good song list. He plays both the piano and the guitar! He is perfect for the wedding ceremony and for when you want to get the party started at the wedding reception, where all ages will enjoy tapping away to his songs and hitting the dancefloor. He is also one of the nicest people you will meet."
---

John Harvey - The Samphire Club
"Kaj performed at our launch party for the Samphire Club - he was absolutely brilliant. Needless to say I continue to book him for my events and recommended to my network all the time!"
---